Ann Geiger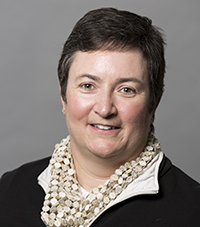 Dr. Ann M. Geiger is currently Acting Associate Director of the new Healthcare Delivery Research Program within the National Cancer Institute's (NCI) Division of Cancer Control and Population Sciences

. Her primary role is to provide leadership in advancing health services research within NCI and across the extramural community. This includes serving as the lead scientist for the cancer care delivery research component of the NCI Community Oncology Research Program (NCORP)

and as an advocate for clinical effectiveness questions on NCI's Provocative Questions Executive Committee. She also oversees a group of scientists managing over 100 extramural grants and numerous initiatives to create research resources.
Dr. Geiger has prior experience in both the academic and medical care delivery environments. She spent seven years at Wake Forest University School of Medicine where, in addition to conducting research focusing on cancer survivorship, she served as Co-Director of the Graduate Program in Clinical and Translational Sciences. Prior to her position at Wake Forest, Dr. Geiger was at Kaiser Permanente Southern California for ten years, where she worked with clinicians and institutional leaders to conduct practice-based research focused on cancer screening, treatment, and follow-up care. She received an A.B. in Biology from Harvard-Radcliffe College in 1987 and a M.P.H. (1992) and Ph.D. (1995) in Epidemiologic Science from the University of Michigan.
Among Dr. Geiger's other professional activities, she is an Associate Editor of the Journal of the National Cancer Institute and serves as a reviewer of numerous journals. She has received multiple awards for her leadership, editorial, teaching, and mentorship activities.
Last Updated: 08 Jun 2015