Michelle Mollica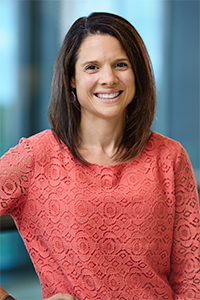 Michelle Mollica, PhD, MPH, RN, OCN is a Program Director in the Outcomes Research Branch of the Healthcare Delivery Research Program. Prior to joining HDRP, Michelle was a Cancer Prevention Fellow (CPF), working with Dr. Erin Kent. As a CPF, Dr. Mollica worked on a number of projects with the SEER-CAHPS linked data resource and the Cancer Care Outcomes Research & Surveillance Consortium (CanCORS) Caregivers Study.
She received her PhD in Nursing Science at the Medical University of South Carolina, and an MPH in Community Health and Health Behavior at the University at Buffalo. As part of her doctoral work, Michelle created and piloted a peer navigation intervention utilizing long-term African American breast cancer survivors as peer navigators to increase adherence to follow-up care and overall quality of life. She also holds an MSN in Nursing Education from Daemen College, a BSN in Nursing from Columbia University, and a BS in Biology from Canisius College. Michelle also spent over 10 years working clinically as a nurse at Mount Sinai Hospital in New York City and Roswell Park Cancer Institute in Buffalo, NY. In addition, she was an Assistant Professor of Nursing at D'Youville College in Buffalo, NY, teaching at both undergraduate and graduate levels.
With an enduring interest in improving care for those impacted by cancer, Michelle explores the intersection of survivorship and healthcare delivery, including the transition into post-treatment survivorship, adherence to follow-up care, patient experiences, quality of care, and informal cancer caregiving. Dr. Mollica has a background in mixed methods research and community-engaged research, and has extensive experience conducting qualitative research and intervention development in underserved populations.
Last Updated: 14 Sep 2018