HDRP Newsletter, December 2016
Message from the Associate Director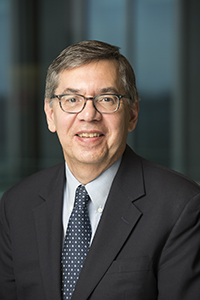 It is my privilege and honor to serve as the first permanent Associate Director of the Healthcare Delivery Research Program within NCI's Division of Cancer Control and Population Sciences. I join the program with great enthusiasm for continuing to enhance our data resources, measures, and grant portfolio and for strengthening our relationships with other agencies, organizations, and partners. I am committed to building on the excellent foundation created since the program's 2015 beginnings and I am enormously grateful to my colleague, Ann Geiger, who has served so effectively as HDRP's Acting Associate Director for nearly two years.
By way of introduction, I joined NCI from Moffitt Cancer Center where I served as Associate Center Director for Population Science, Over the past 30 years, my research has largely focused on patient-centered health outcomes, behavioral aspects of cancer prevention and detection, and supportive care medicine. I have worked closely with the American Society of Clinical Oncology, the National Comprehensive Cancer Network, and other organizations that influence how cancer care is delivered.
I am excited about the opportunity to work at the national level to better understand and improve cancer care delivery. I see this as a rapidly growing field of research and expect HDRP to play a major role in moving the science forward and generating evidence to inform policy.
Sincerely,
Paul Jacobsen
Associate Director, HDRP
Leadership Changes
Ann Geiger has left her position as Chief of the Healthcare Assessment Research Branch (HARB) and has filled the key leadership position of HDRP Deputy Associate Director (DAD). In this role, Ann will focus on grants and administrative issues across the program, continue to oversee NCORP cancer care delivery research activities, and lead the development of new scientific initiatives.
Paul Doria-Rose has been named the Acting Branch Chief of HARB, succeeding Ann in this role. Paul will join the HDRP Leadership Team and provide scientific direction and administrative oversight for the branch. He will also continue to be the scientific lead of the Population-based Research Optimizing Screening through Personalized Regimens (PROSPR) and Cancer Research Network (CRN) initiatives.
Spotlight on… Symptom Management
The Cancer Moonshot's Blue Ribbon Panel, comprised of scientific experts, cancer leaders, and patient advocates, released a report (PDF)

this fall that identified a set of 10 research recommendations poised for a decade's worth of progress in just 5 short years. One of the recommendations in which HDRP staff are taking a lead role to develop a response is Recommendation F: Symptom Management Research (PDF)

. The recommendation aims to:
Accelerate adoption of technology-aided systems that monitor patient-reported symptoms and provide actionable decision support approaches utilizing evidence-based cancer guidelines to treat symptoms throughout the cancer continuum.
HDRP will be coordinating a response to this recommendation that will focus on symptom management in the context of cancer care. Dr. Paul Jacobsen, HDRP Associate Director, will be leading this effort in collaboration with the Division of Cancer Prevention, which will be focusing on a parallel effort to assess the mechanisms of symptom management.
As a first step, we are interested in hearing from the extramural research community and others regarding knowledge gaps and priorities for symptom management research. To do so, we will be holding webinars in late January and early February to obtain input. Comments from these webinars will help to inform planning and directions for future funding announcements. A separate webinar is being scheduled to obtain input from the patient advocacy community.
HDRP staff are also collaborating on responses to Blue Ribbon Panel recommendations on colorectal cancer screening and Lynch syndrome. More information about new initiatives that stem from these recommendations will be shared when available.
Working for You…
Providing New Data: SEER-CAHPS Linkage
SEER-CAHPS, a unique, patient-centered health services and quality care data resource is now available. SEER-CAHPS links data from the National Cancer Institute's Surveillance Epidemiology and End Results (SEER) cancer registries with data from the Medicare Consumer Assessment of Healthcare Providers and Systems (CAHPS®) patient surveys. The data resource includes:
Medicare CAHPS data from surveys collected in 1998-2013 to assess patient experiences of multiple aspects of their care (e.g. access to needed and timely care, doctor communication, global ratings of doctors, specialists, overall care and health/prescription drug plan).
SEER registry data (1973-2011 diagnosis) on cancer site, stage, treatment, death, sociodemographics.
Longitudinal Medicare claims data (2002-2013) on utilization and costs of care for fee-for-service Medicare beneficiaries.
More information about the linkage, including in-depth descriptions of the data and data files, the process for obtaining the data, privacy and confidentiality considerations, SAS programs, and frequently asked questions, can be found on the SEER-CAHPS website.
Updating Existing Data: SEER-Medicare
SEER-Medicare reflects the linkage of data from the Surveillance, Epidemiology and End Results program of cancer registries, which collects clinical, demographic and cause of death information for persons with cancer, and the Medicare claims for covered health care services from the time of a person's Medicare eligibility until death. In early December, the updates to the SEER-Medicare data were completed. The data now include cancer cases diagnosed from 1991-2013 and their associated claims from 1991-2014, reflecting over 2 million patients. A more detailed breakdown of patients by cancer site and diagnosis year is provided on the SEER-Medicare website. Requests to use the new data are being accepted.
Fostering Emerging Areas of Research: Employment Outcomes among Cancer Survivors
HDRP is conducting a number of activities in service of building a research program in informal cancer caregiving. Two notice of funding opportunities (NOFOs) were released in 2016 and can be found on our cancer caregiving web page along with several reports that explore experiences of informal cancer caregivers in providing care or assistance to family members or friends with cancer. HDRP's work in this area aims to improve the characterization of informal caregivers and the care they manage; accelerate the development and standardization of measures and metrics for cancer caregiving; promote development and testing of interventions aimed at improving outcomes for patients and caregivers; and facilitate the creation of tools to better integrate cancer caregivers into healthcare delivery.
Fostering Emerging Areas of Research: Human System Integration in Cancer Care
On October 20-21, 2016, HDRP and the Behavioral Research Program co-hosted a workshop, Human System Integration in Cancer Care. The goal of this meeting was to create a research agenda focused on leveraging the enhanced capacities of an informatics-infused healthcare delivery system to create better cognitive and systemic support for care teams and their patients. Participants reviewed a set of preliminary materials ahead of the meeting, which were then synthesized and used to discuss possible strategies forward and ideas for a research agenda. One outcome of the meeting was a recognition that a Human Systems Integration approach should be woven into the design of both the technologies and health services that must be synchronized to improve patient outcomes. As a next step, the organizing committee will be meeting with selected leaders from both the private and public spheres on March 28, 2017 in San Diego, CA to investigate the feasibility of enabling a public-private partnership focused on addressing critical issues of oncology care as identified by the President's Cancer Panel report on "Improving Cancer-Related Outcomes with Connected Health"

.
Publishing Research: JOP Special Series on NCI-ASCO Teams
The November Issue of the Journal of Oncology Practice features 19 original manuscripts and four editorials that address ways to enhance team-based oncology care. The series is the culmination of a project launched in 2014 by the National Cancer Institute

and the American Society of Clinical Oncology (ASCO)

. Manuscripts were written by interdisciplinary groups of authors that included clinicians, researchers, and patient advocates. The manuscripts discuss both real and hypothetical case studies, models of care, and the value of teams in care. For more information, visit our healthcare teams web page.
Enhancing Training in Healthcare Delivery: Improving Investigator Capacity Workshop
The Improving Investigator Capacity to Conduct Research in Healthcare Delivery Settings Workshop was held on December 14-15, 2016 and focused on exploring the knowledge, skills, and behaviors for scientists to successfully conduct practice-integrated research. Attendees collaborated to discuss formal and informal approaches to prepare scientists at all career stages to conduct research grounded in the reality of care delivery. Information provided from this workshop will guide next steps in establishing the need for training activities, define approaches likely to meet these needs, articulating NCI's role and establishing partnerships for training efforts.
Looking Ahead…
Forging New Collaborations: NCI and Genentech Collaborate on PRO-CTCAE Translations
HDRP has led a trans-NCI effort to develop a patient-reported measurement system to assess symptomatic toxicity in cancer patients enrolled in cancer clinical trials, the Patient-Reported Outcomes version of the Common Terminology Criteria for Adverse Events (PRO-CTCAE™). Access to the instrument and related information is available on the PRO-CTCAE web page.
Additionally, NCI and Genentech have reached an agreement to make more language translations of PRO-CTCAE publicly available by December 2017. This agreement represents a substantial financial investment by Genentech, and the partnership between NCI and Genentech will further accelerate the implementation of PRO-CTCAE in both industry-sponsored and NCI-sponsored cancer clinical trials. New languages being produced and linguistically validated include Russian, Polish, Hungarian, Czech, French and Chinese. The scope of the collaborative work will also allow us to confirm the universality of the English, Spanish, Italian, and German language versions (and some of the newly developed languages such as French) in countries where a sample of the population speaks that language (e.g., Italian language in Switzerland, French language in Canada). By early 2018 it is anticipated that PRO-CTCAE will be available in more than 20 languages.
Building Partnerships: NCI - AcademyHealth Healthcare Delivery Research Scholar Program
HDRP is working with AcademyHealth to develop an opportunity for two mid-career scientists to spend a portion of their time conducing care delivery research within HDRP using NCI resources and collaborating with staff scientists. More information about this program, including the application process, will be available in January.
Redesigning Data Collection: National Health Interview Survey Cancer Control Supplement
The National Health Interview Survey (NHIS) Cancer Control Supplement (CCS) is used to track cancer screening and prevention behaviors such as tobacco use, diet, physical activity, and genetic counseling. HDRP, in collaboration with colleagues across DCCPS and CDC's Division of Cancer Prevention and Control, has historically fielded a 20-minute CCS every five years and 5-minute survey at midpoint years. Starting in 2018, the National Center for Health Statistics (NCHS) will unveil and filed a newly redesigned NHIS. Based on this redesign, the CCS will be modified to an annual 5-minute supplement with rotating content. The first 5-minute CCS will be fielded in 2018 and will focus on cancer screening. More information about the NCHS redesign can be found here

.
New Funding Opportunities
Several new notice of funding opportunities (NOFOs) with relevance to healthcare delivery research are mentioned below. For a full list of open announcements across the Division of Cancer Control and Population Sciences, please visit the DCCPS Funding Opportunities page

. Be sure to also look for funding opportunities available across NCI

that may be applicable to your areas of research.
Population-based Research to Optimize the Screening Process (PROSPR) Research Centers (UM1)
The overall goal for PROSPR Research Centers is to enhance understanding of the implementation and effects of screening as practiced in multiple, heterogeneous healthcare environments in the U.S. This NOFO will support one PROSPR Research Center for each of the three cancer types: cervical, colorectal, and lung cancer.
Coordinating Center for Population-based Research to Optimize the Screening Process (PROSPR) (U24)
This NOFO will fund a single Coordinating Center that will support a network of three PROSPR Research Centers. The Coordinating Center will facilitate the development of common measures across cancer types for (1) system-level factors that may impact the cancer screening process, and (2) quality of screening. It will also coordinate PROSPR network research projects that include more than one cancer type and will develop and implement a process for data access and sharing.
Oral Anticancer Agents: Utilization, Adherence, and Health Care Delivery (R01/R21)
The purpose of this NOFO is to encourage research grant applications to: (1) assess and describe the current state of oral anticancer medication utilization, delivery, and adherence; (2) identify structural, systemic, and psychosocial barriers to adherence; and (3) develop models and strategies to improve safe and effective delivery of these agents so that clinical outcomes are optimized.
Palliative Care Needs of Individuals with Rare Advanced Diseases and Their Family Caregivers (R01/R21)
This NOFO seeks to expand knowledge and increase the evidence base for palliative care in advanced rare diseases, including rare cancers, and to improve physical and psychosocial well-being and quality of life among seriously ill individuals and their family caregivers.
Reducing Overscreening for Breast, Cervical, and Colorectal Cancers among Older Adults (R01/R21)
The purpose of this NOFO is to promote research on interventions, based in healthcare settings, designed to reduce overscreening for breast, cervical, or colorectal cancers among average-risk older adults.
Current Openings
Scientific Lead, NCI Community Oncology Research Program - Cancer Care Delivery Research
HDRP is conducting a national search for a Scientific Lead to direct Cancer Care Delivery Research (CCDR) within the NCI Community Oncology Research Program (NCORP). The CCDR Scientific Lead will facilitate a new and innovative program of research by prioritizing and guiding all scientific CCDR activities within NCORP.
New Staff
Melanie Baker
Melanie is a Cancer Research Training Award (CRTA) fellow in the Healthcare Assessment Research Branch. Melanie will be working on several activities within the branch, including projects related to patterns of care. Prior to joining HARB, Melanie was a summer intern in the Health Systems and Interventions Research Branch and worked on tracking, analyzing and summarizing NOFOs.
Riante Jones
Riante is a Program Support Assistant in HDRP and provides administrative support to the Office of the Associate Director. Before joining HDRP, Riante worked in the Behavioral Research Program within DCCPS and in the Division of Cancer Prevention. Riante has a bachelor's degree in communication and a master's degree in integrated marketing communication.
Michelle Mollica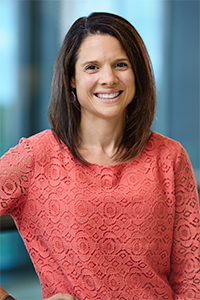 Michelle is a Program Director in the Outcomes Research Branch or HDRP. Prior to joining HDRP, she was a Cancer Prevention Fellow and worked on a number of projects with the SEER-CAHPS linked data resource and the Cancer Care Outcomes Research & Surveillance Consortium (CanCORS) Caregivers Study. Michelle is interested in issues related to cancer survivorship and explores the intersection of survivorship and healthcare delivery, including patient experiences, quality of care, informal cancer caregiving, and follow-up care. Her research interests also include the transition into post-treatment survivorship, spirituality, and quality of life. Michell has a background in mixed methods research and community-engaged research, and has extensive experience conducting qualitative research and intervention development in underserved populations.
Maria Rincon, MPH
Maria is a Health Communication intern working under the mentorship of Dr. Erin Kent. She helps to manage the SEER-CAHPS and SEER-MHOS data projects along with other related activities. She obtained her B.S. in biology from the University of South Florida and a MPH with a concentration in epidemiology of microbial diseases from Yale University.
Annie Sampson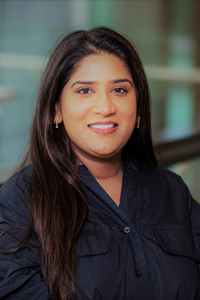 Annie is a Public Health Advisor in the HDRP Office of the Associate Director. She will be managing the program's budget, contracts, and personnel, and will work closely with the HDRP Leadership team to manage operations and planning. She will also provide support for several scientific initiatives.
Sallie Weaver, PhD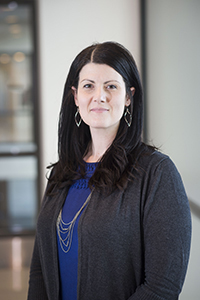 Sallie is an Industrial-Organizational Psychologist and program director in the Health Systems and Interventions Research Branch (HSIRB). She is working with the NCI Healthcare Teams Initiative that aims to improve the outcomes and experiences of people facing cancer through research examining teaming in cancer care and translation of evidence-based team performance interventions into practice. Sallie's interests and research focus on organizational factors that influence team performance, and interventions designed to optimize patient safety, care quality, and coordination. She earned her MS and PhD in Psychology from the University of Central Florida and her post-doctoral MHS in Epidemiology from the Johns Hopkins Bloomberg School of Public Health.
Staff Publications, August - December 2016
Bæksted C, Nissen A, Pappot H, Bidstrup PE, Mitchell SA, Basch E, Dalton SO, Johansen C. Danish Translation and Linguistic Validation of the U.S. National Cancer Institute's Patient-Reported Outcomes version of the Common Terminology Criteria for Adverse Events (PRO-CTCAE). J Pain Symptom Manage 2016 Aug;52(2):292-7. doi: 10.1016/j.jpainsymman.2016.02.008. [View Abstract]

Banegas MP, Harlan LC, Mann B, Yabroff KR. Toward greater adoption of minimally invasive and nephron-sparing surgical techniques for renal cell cancer in the United States. Urol Oncol 2016 Oct;34(10):433.e9-433.e17. doi: 10.1016/j.urolonc.2016.05.021. [View Abstract]

Beachler DC, Gonzales FA, Kobrin SC, Kreimer AR. HPV vaccination initiation after the routine-recommended ages of 11-12 in the United States. Papillomavirus Res 2016 Dec 1;2:11-16. [View Abstract]

Bevans M, El-Jawahri A, Tierney DK, Wiener L, Wood WA, Hoodin F, Kent EE, Jacobsen PB, Lee SJ, Hsieh MM, Denzen EM, Syrjala KL. National Institutes of Health Hematopoietic Cell Transplantation Late Effects Initiative: The Patient-Centered Outcomes Working Group Report. Biol Blood Marrow Transplant 2016 Sep 19. pii: S1083-8791(16)30351-2. [Epub ahead of print] [View Abstract]

Bottomley A, Pe M, Sloan J, Basch E, Bonnetain F, Calvert M, Campbell A, Cleeland C, Cocks K, Collette L, Dueck AC, Devlin N, Flechtner HH, Gotay C, Greimel E, Griebsch I, Groenvold M, Hamel JF, King M, Kluetz PG, Koller M, Malone DC, Martinelli F, Mitchell SA, Moinpour CM, Musoro J, O'Connor D, Oliver K, Piault-Louis E, Piccart M, Pimentel FL, Quinten C, Reijneveld JC, Schürmann C, Smith AW, Soltys KM, Taphoorn MJ, Velikova G, Coens C; Setting International Standards in Analyzing Patient-Reported Outcomes and Quality of Life Endpoints Data (SISAQOL) consortium.. Analysing data from patient-reported outcome and quality of life endpoints for cancer clinical trials: a start in setting international standards. Lancet Oncol 2016 Nov;17(11):e510-e514. Review. [View Abstract]

Bradley CJ, Yabroff KR, Warren JL, Zeruto C, Chawla N, Lamont EB. Use of High-cost Systemic Treatments in Elderly mCRC Patients. Med Care 2017 Jan;55(1):86-87. [Look up in PubMed]

Cook MB, Drahos J, Wood S, Enewold L, Parsons R, Freedman ND, Taylor PR, Ricker W, Abnet CC. Pathogenesis and progression of oesophageal adenocarcinoma varies by prior diagnosis of Barrett's oesophagus. Br J Cancer 2016 Nov 22;115(11):1383-1390. doi: 10.1038/bjc.2016.344. [View Abstract]

Elwyn G, Frosch DL, Kobrin S. Implementing shared decision-making: consider all the consequences. Implement Sci 2016 Aug 8;11:114. Review. [View Abstract]

Freedman DM, Wu J, Chen H, Kuncl RW, Enewold LR, Engels EA, Freedman ND, Pfeiffer RM. Associations between cancer and Alzheimer's disease in a U.S. Medicare population. Cancer Med 2016 Oct;5(10):2965-2976. doi: 10.1002/cam4.850. [View Abstract]

Gage-Bouchard EA, LaValley S, Mollica M, Beaupin LK. Communication and Exchange of Specialized Health-Related Support Among People With Experiential Similarity on Facebook. Health Commun 2016 Aug 2:1-8. [Epub ahead of print] [View Abstract]

Gonzales FA, Hurtado-de-Mendoza A, Santoyo-Olsson J, Nápoles AM. Do coping strategies mediate the effects of emotional support on emotional well-being among Spanish-speaking Latina breast cancer survivors? Psychooncology 2016 Nov;25(11):1286-1292. doi: 10.1002/pon.3953. [View Abstract]

Gonzales FA, Taplin SH, Yu M, Breen N, Cronin KA. Receipt of mammography recommendations among White and non-White women before and after the 2009 United States Preventive Services Task Force recommendation change. Cancer Causes Control 2016 Aug;27(8):977-87. doi: 10.1007/s10552-016-0775-9. [View Abstract]

Hagelstein V, Ortland I, Wilmer A, Mitchell SA, Jaehde U. Validation of the German patient-reported outcomes version of the common terminology criteria for adverse events (PRO-CTCAE™). Ann Oncol 2016 Dec;27(12):2294-2299. doi: 10.1093/annonc/mdw422. [View Abstract]

Halpern MT, Urato MP, Kent EE. The health care experience of patients with cancer during the last year of life: Analysis of the SEER-CAHPS data set. Cancer 2017 Jan 1;123(2):336-344. doi: 10.1002/cncr.30319. [View Abstract]

Hamilton JG, Abdiwahab E, Edwards HM, Fang ML, Jdayani A, Breslau ES. Primary care providers' cancer genetic testing-related knowledge, attitudes, and communication behaviors: A systematic review and research agenda. J Gen Intern Med 2016 Dec 19. [Epub ahead of print] [View Abstract]

Hays RD, Chawla N, Kent EE, Arora NK. Measurement equivalence of the Consumer Assessment of Healthcare Providers and Systems (CAHPS®) Medicare survey items between Whites and Asians. Qual Life Res 2016 Aug 5. [Epub ahead of print] [View Abstract]

Jensen RE, Moinpour CM, Potosky AL, Lobo T, Hahn EA, Hays RD, Cella D, Smith AW, Wu XC, Keegan TH, Paddock LE, Stroup AM, Eton DT. Responsiveness of 8 Patient-Reported Outcomes Measurement Information System (PROMIS) measures in a large, community-based cancer study cohort. Cancer 2017 Jan 1;123(2):327-335. doi: 10.1002/cncr.30354. [View Abstract]

Johnson RH, Macpherson CF, Smith AW, Block RG, Keyton J. Facilitating Teamwork in Adolescent and Young Adult Oncology. J Oncol Pract 2016 Nov;12(11):1067-1074. [View Abstract]

Kenzik KM, Kent EE, Martin MY, Bhatia S, Pisu M. Chronic condition clusters and functional impairment in older cancer survivors: a population-based study. J Cancer Surviv 2016 Dec;10(6):1096-1103. [View Abstract]

Kent EE, Prestin A, Gaysynsky A, Galica K, Rinker R, Graff K, Chou WY. "Obesity is the New Major Cause of Cancer": Connections Between Obesity and Cancer on Facebook and Twitter. J Cancer Educ 2016 Sep;31(3):453-9. doi: 10.1007/s13187-015-0824-1. [View Abstract]

Leyva B, Persoskie A, Ottenbacher A, Hamilton JG, Allen JD, Kobrin SC, Taplin SH. Do Men Receive Information Required for Shared Decision Making About PSA Testing? Results from a National Survey. J Cancer Educ 2016 Dec;31(4):693-701. [View Abstract]

Litzelman K, Kent EE, Mollica M, Rowland JH. How Does Caregiver Well-Being Relate to Perceived Quality of Care in Patients With Cancer? Exploring Associations and Pathways. J Clin Oncol 2016 Aug 29. pii: JCO673434. [Epub ahead of print] [View Abstract]

Marcus PM, Pashayan N, Church TR, Doria-Rose VP, Gould MK, Hubbard RA, Marrone M, Miglioretti DL, Pharoah PD, Pinsky PF, Rendle KA, Robbins HA, Roberts MC, Rolland B, Schiffman M, Tiro JA, Zauber AG, Winn DM, Khoury MJ. Population-Based Precision Cancer Screening: A Symposium on Evidence, Epidemiology, and Next Steps. Cancer Epidemiol Biomarkers Prev 2016 Nov;25(11):1449-1455. [View Abstract]

Moinpour CM, Donaldson GW, Davis KM, Potosky AL, Jensen RE, Gralow JR, Back AL, Hwang JJ, Yoon J, Bernard DL, Loeffler DR, Rothrock NE, Hays RD, Reeve BB, Smith AW, Hahn EA, Cella D. The challenge of measuring intra-individual change in fatigue during cancer treatment. Qual Life Res 2016 Jul 28. [Epub ahead of print] [View Abstract]

Murphy J, Mollica M. All Hands on Deck: Nurses and Cancer Care Delivery in Women's Health. Front Oncol 2016 Jul 22;6:174. [Look up in PubMed]

Neuhouser ML, Smith AW, George SM, Gibson JT, Baumgartner KB, Baumgartner R, Duggan C, Bernstein L, McTiernan A, Ballard R. Use of complementary and alternative medicine and breast cancer survival in the Health, Eating, Activity, and Lifestyle Study. Breast Cancer Res Treat 2016 Dec;160(3):539-546. [View Abstract]

Noone AM, Lund JL, Mariotto A, Cronin K, McNeel T, Deapen D, Warren JL. Comparison of SEER Treatment Data With Medicare Claims. Med Care 2016 Sep;54(9):e55-64. doi: 10.1097/MLR.0000000000000073. [View Abstract]

Pirsl F, Curtis LM, Steinberg SM, Tella SH, Katic M, Dobbin M, Hsu J, Hakim FT, Mays JW, Im AP, Pulanic D, Mitchell SA, Baruffaldi J, Masuch L, Halverson DC, Gress RE, Barsony J, Pavletic SZ. Characterization and Risk Factor Analysis of Osteoporosis in a Large Cohort of Patients with Chronic Graft-versus-Host Disease. Biol Blood Marrow Transplant 2016 Aug;22(8):1517-24. doi: 10.1016/j.bbmt.2016.04.012. [View Abstract]

Shaw BE, Hahn T, Martin PJ, Mitchell SA, Petersdorf EW, Armstrong GT, Shelburne N, Storer BE, Bhatia S. National Institutes of Health Hematopoietic Cell Transplantation Late Effects Initiative: The Research Methodology and Study Design Working Group Report. Biol Blood Marrow Transplant 2017 Jan;23(1):10-23. Review. [View Abstract]

Shnorhavorian M, Doody DR, Chen VW, Hamilton AS, Kato I, Cress RD, West M, Wu XC, Keegan TH, Harlan LC, Schwartz SM; AYA HOPE Study Collaborative Group.. Knowledge of Clinical Trial Availability and Reasons for Nonparticipation Among Adolescent and Young Adult Cancer Patients: A Population-based Study. Am J Clin Oncol 2016 Sep 15. [Epub ahead of print] [View Abstract]

Smith AW, Mitchell SA, K De Aguiar C, Moy C, Riley WT, Wagster MV, M Werner E. News from the NIH: Person-centered outcomes measurement: NIH-supported measurement systems to evaluate self-assessed health, functional performance, and symptomatic toxicity. Transl Behav Med 2016 Sep;6(3):470-4. [Look up in PubMed]

Troeschel A, Smith T, Castro K, Treiman K, Lipscomb J, McCabe RM, Clauser S, Friedman EL, Hegedus PD, Portier K. The development and acceptability of symptom management quality improvement reports based on patient-reported data: an overview of methods used in PROSSES. Qual Life Res 2016 Nov;25(11):2833-2843. [View Abstract]

Warren JL, Mariotto A, Melbert D, Schrag D, Doria-Rose P, Penson D, Yabroff KR. Sensitivity of Medicare Claims to Identify Cancer Recurrence in Elderly Colorectal and Breast Cancer Patients. Med Care 2016 Aug;54(8):e47-54. doi: 10.1097/MLR.0000000000000058. [View Abstract]

Weaver SJ. From Teams of Experts to Mindful Expert Teams and Multiteam Systems. J Oncol Pract 2016 Nov;12(11):976-979. [Look up in PubMed]