HDRP Newsletter, August 2020
Message from the HDRP Associate Director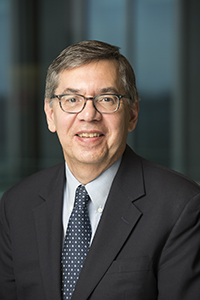 In the months since the last HDRP newsletter was sent, events in Minneapolis and elsewhere have brought attention to a number of issues, including the continuing problems of systemic racism and bias in American society. These events also underscore the importance of efforts to address health disparities, as well as the health effects of systemic racism. As a research community, we have an important role to play in advancing knowledge that promotes health equity and ensures that all members of society receive and benefit from care known to reduce cancer-related risk, incidence, poor quality of life, and death. A significant and growing portion of HDRP's current grant portfolio is devoted to this topic. Even so, we are considering new topics in this area and new ways to support research to advance health equity.
When we sent the last HDRP newsletter in April, I did not expect to still be working from home. I know the pandemic has been a challenge for many of you personally and professionally. Despite the enormous challenges wrought by the pandemic, I am humbled by the dedication and creativity of the research community and by the ways in which many of you have quickly pivoted to examine new issues in health care delivery during this difficult time. In addition to providing valuable information about the impact of the pandemic on the delivery of cancer-related care, these efforts may suggest ways to resume previous forms of care once the current pandemic subsides. They may also identify changes to the delivery of care adopted during the pandemic that should be evaluated for continued use.
In this issue of the newsletter, we provide information about funding opportunities, upcoming events, and data resources supported by HDRP. We also provide links to COVID-19 initiatives at NIH and NCI and funding opportunities for COVID-19 research. I encourage you to reach out to me or any of our staff to learn more about these activities and funding opportunities. A full staff listing is available on our website.
COVID-19 Updates and Funding Opportunities
NIH is working to accelerate the development of therapeutic interventions, vaccines, and diagnostics for COVID-19. For more information, visit the latest research information from NIH.
NCI is mobilizing its scientific experts and cutting-edge resources to conduct research on COVID-19. For information about ongoing research initiatives, visit NCI COVID-19 Research Initiatives.
NCI COVID-19 Funding Opportunities
Click the links below for information about these funding opportunities, eligibility, and the application and review process.
For information about other funding opportunities at NCI visit NCI Funding Announcements and Notices for COVID-19

.
For information about funding opportunities sponsored by other institutes and centers at NIH, visit the latest research information from NIH

.
COVID-19 Information for NIH Applicants and Grant Recipients
NIH is deeply concerned for the health and safety of people involved in NIH research, and about the effects on the biomedical enterprise in the areas affected by the HHS declared public health emergency for COVID-19. Due to the potential exceptional impact, we want to assure our grant recipient community that NIH will be doing its part to help you continue your research.
View this video

from NIH's Office of Extramural Research Director, Mike Lauer, regarding information for applicants and recipients of NIH Funds on Flexibilities Needed for COVID-19 Public Health Emergency.
For up-to-date information, guidance, and resources, visit the latest research information from NIH

.
COVID-19 is an emerging, rapidly evolving situation and NIH/NCI is committed to keeping you informed.
Funding Opportunities
Despite the challenges posed by the COVID-19 pandemic, NCI remains committed to funding research that will improve the health and quality of life of people diagnosed with cancer. Please see a message

from NCI Director, Ned Sharpless.
This section includes links to funding opportunities for healthcare delivery research.
NCI's 2020 Provocative Questions (PQ) Round 2 Submissions
Provocative Questions (PQ) are intended to stimulate research in perplexing and underexplored areas identified by the cancer research community.
NCI has published Funding Opportunity Announcements (FOAs) as Request for Applications (RFAs) to solicit applications responding to the current nine PQ. This RFA utilizes the R01

and R21

activity codes.
Two PQs are directly relevant to HDRP:
REMINDERS:
Notice of Special Interest (NOSI):
Other Funding Opportunities:
For more information about funding including additional Funding Opportunity Announcements, please visit our Funding page.
Grants Announcements
This Notice informs the extramural community that NIH is expanding and formalizing the use of Notices of Special Interest (NOSI) posted in the NIH Guide for Grants and Contracts to announce interest in specific scientific research topics.
How Does a NOSI Work?
A NOSI is a standard, formal format for NIH institutes to share and update their research priorities. A NOSI describes specific topics of interest and will direct applicants to one or more active funding opportunity announcements for application submission. A NOSI is not an FOA and is listed as a notice in the NIH Guide for Grants and Contracts

. Applicants should read NOSIs carefully for any special requirements related to that specific announcement.
HDRP currently sponsors two NOSIs. For more information, visit HDRP's website and read more in our Funding Opportunities section of this newsletter.
Upcoming Events
For other upcoming events please check our News & Events page. Events are updated regularly. To view our archived events, check our Events page.
Data and Resources