NCI/AcademyHealth Healthcare Delivery Research Visiting Scholars Program
In 2017, the Healthcare Delivery Research Program launched the NCI/AcademyHealth Healthcare Delivery Research Visiting Scholars Program

in partnership with AcademyHealth

. Through a rigorous application process, mid-level researchers are selected to participate in a year-long, funded, part-time opportunity to develop and pursue new research aims that advance both their own career goals and the field of cancer care delivery research more broadly. This program also serves the purpose of bringing knowledgeable experts in healthcare delivery research to NCI and also training researchers to understand NCI and utilize federal resources and data. Selected scholars collaborate closely with HDRP staff and are also given access to AcademyHealth programmatic activities to broaden or strengthen their professional networks.
The application cycle for the NCI/AcademyHealth Healthcare Delivery Research Visiting Scholars Program is now closed.
2019-2020 Selected Scholar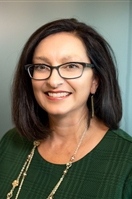 Shellie Ellis, PhD
Associate Professor, Department of Population Health
University of Kansas School of Medicine

Dr. Shellie Ellis has been selected to participate in the NCI/AcademyHealth Visiting Scholar Program. Her combined training in medical anthropology and health services research has allowed Dr. Ellis to be an early contributor to the field of implementation science. She has undertaken interventions to improve the use of evidence in screening and treatment across a variety of primary and specialty settings in profit and non-profit health organizations based in rural, urban, and suburban settings.
During her time at NCI, Dr. Ellis will work with Kate Castro and Ann Geiger on projects related to understanding the barriers to and facilitators of cancer care delivery research in rural-serving oncology practices participating in the NCI Community Oncology Research Program.
Please see our listing of previous visiting scholars for recordings of their projects and experience.