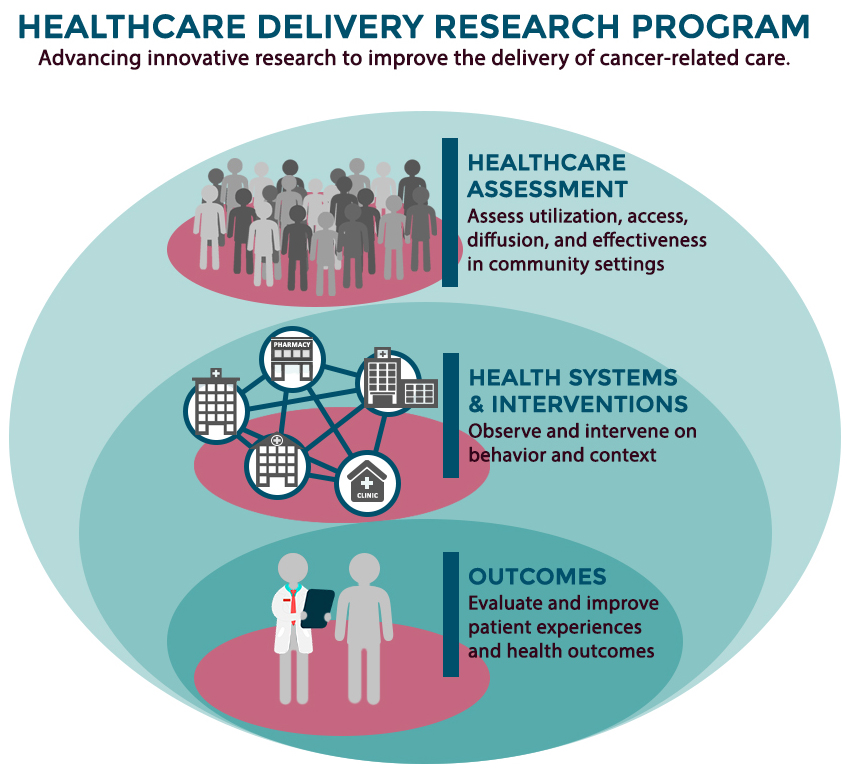 Health care delivery research at NCI is conceptualized as the study of cancer care, factors influencing care, and outcomes of care. Cancer care refers to medical services offered across the cancer continuum, such as screening individuals not known to have cancer; treating cancer patients; following cancer survivors for recurrence; and providing psychosocial support at the end of life for patients and their caregivers.
Cancer care delivery can be influenced by many factors. For example:
Patients' knowledge, attitudes, and beliefs, as well as their financial and social support resources, are known to have a strong influence on treatment decisions.
Provider knowledge and communication style can inform individuals' cancer screening choices.
The structure of the delivery system may facilitate or impede the coordination of primary and oncology care for cancer survivors.
Understanding the many factors that influence care, and how they act and interact, is an essential component of health care delivery research supported by NCI. The knowledge generated from this research can be used to design and test interventions that will promote patient-centered, evidence-based care.
Why Study Healthcare Delivery?
Ultimately, the outcome of most interest in health care delivery research is reducing the burden of cancer on individuals and society. Outcomes of interest for individuals and families include improved long-term health and survival, and diminished psychosocial distress. Society benefits from reduced mortality and morbidity in the population. Adverse economic impacts of cancer affect both individual financial well-being and societal resources. Because it can be challenging to study these long-term outcomes, health care delivery research often uses intermediate outcomes such as receipt of certain therapies or quality of life.
Who Studies Healthcare Delivery?
Health care delivery researchers are a diverse group. They may have a medical background, such a physicians and nurses; be trained in clinical psychology or social work; or come from formal research training programs in health services, public health, or social science. Substantial proportions of researchers in this field have both clinical and research training, or span multiple scientific fields. While many hold positions focused on research, others have positions with a stronger focus on education or health care administration. Health care delivery research usually requires teams of people with complimentary training, experience, and responsibilities.
The Healthcare Delivery Research Program supports research and evaluation activities through its three branches:
Contact
The material provided here is meant to give an introduction to health care delivery research at NCI. There is a wealth of information available on the accompanying Web pages.
See Contact Us for information on how to contact the Healthcare Delivery Research Program.