About the SEER-CAHPS Data Resource
SEER-CAHPS is a resource for quality of cancer care research based on a linkage between the NCI's Surveillance, Epidemiology and End Results (SEER)

cancer registry data and the Centers for Medicare & Medicaid Services' (CMS) Medicare Consumer Assessment of Healthcare Providers and Systems (CAHPS®)

patient surveys.
SEER
The SEER Program works to provide information on cancer statistics in an effort to reduce the burden of cancer among the U.S. population. SEER collects data on cancer cases beginning in 1973 with a limited number of registries and continues to expand to include even more areas and demographics today.
CAHPS
Since 1997, CMS sponsors annual administrations of the Medicare CAHPS surveys to assess the health care experiences of Medicare enrollees in Medicare Advantage (MA) and fee-for-service (FFS). The CAHPS surveys are widely used instruments for measuring US healthcare quality.
These data provide a rich opportunity for analyses of Medicare beneficiaries' experiences with their care at various stages of the cancer care continuum. Analyses from these data have the potential to fill an important gap in existing knowledge by enabling comparisons of patients' care experiences between MA and FFS beneficiaries and between patients with and without cancer. For Medicare FFS beneficiaries, the SEER-CAHPS data resource also allows for the evaluation of their health care utilization and costs of care through the linkage to Medicare claims.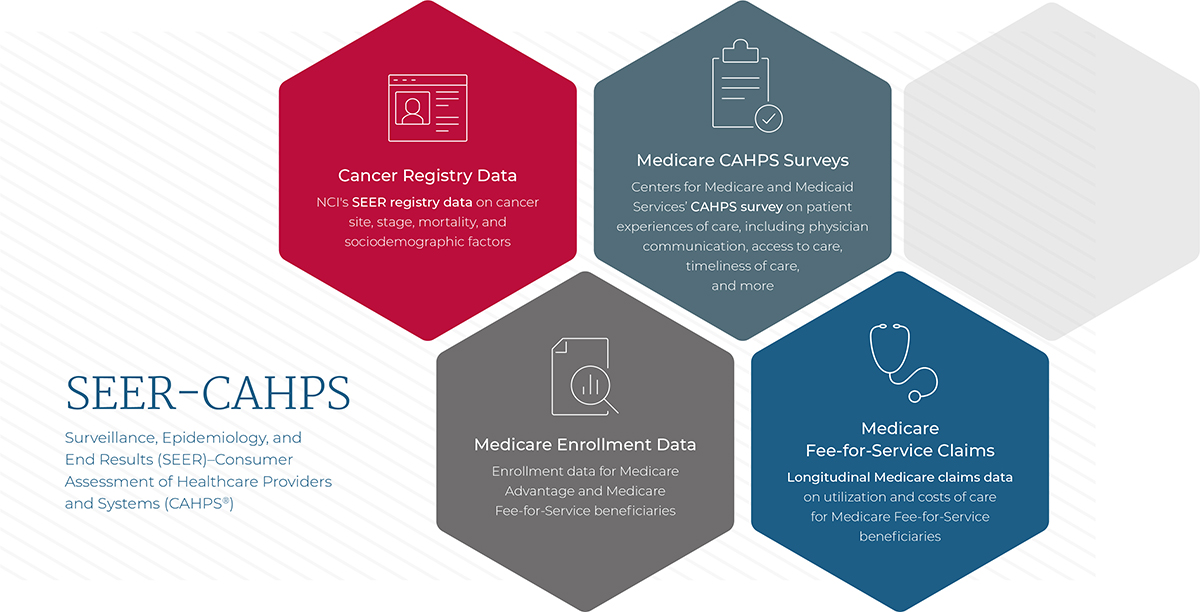 [Click for more details]
SEER—CAHPS: Surveillance, Epidemiology, and End Results (SEER)—Consumer Assessment of Healthcare Providers and Systems (CAHPS)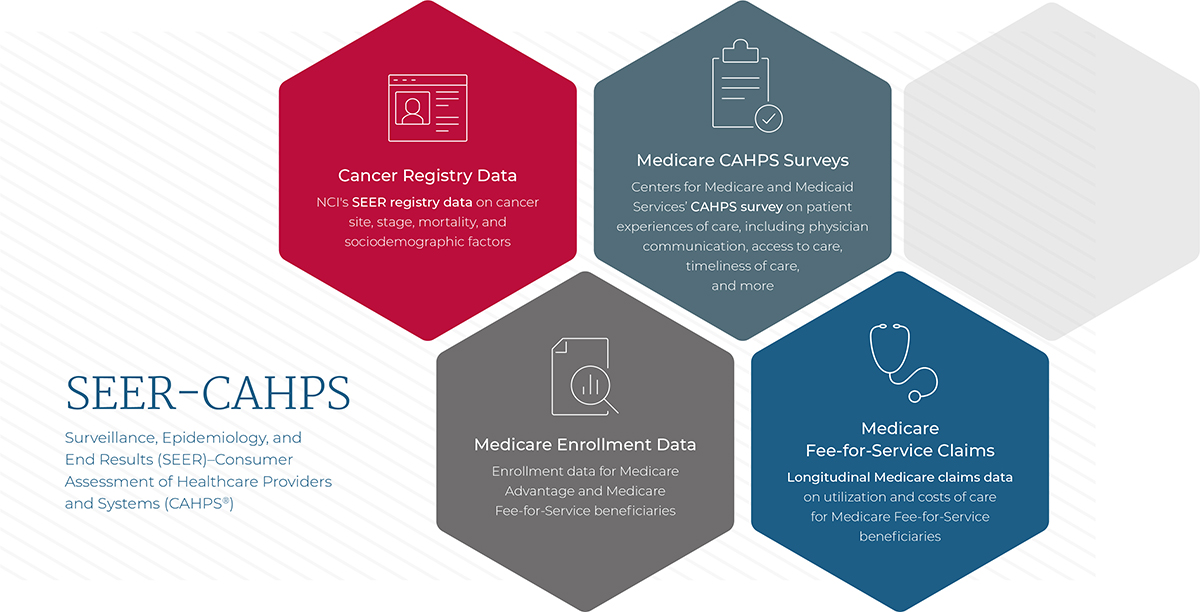 Cancer Registry Data: NCI's SEER registry data on cancer site, stage, mortality, and sociodemographic factors.
Medicare CAHPS Surveys: Centers for Medicare & Medicaid Services' CAHPS survey on patient experiences of care, including physician communication, access to care, timeliness of care, and more.
Medicare Enrollment Data: Enrollment data for Medicare Advantage and Medicare Fee-for-Service beneficiaries.
Medicare Fee-for-Service Claims: Longitudinal Medicare claims data on utilization and costs of care for Medicare Fee-for-Service beneficiaries.