About the SEER-MHOS Data Resource
The SEER-MHOS is a data resource for cancer health outcomes research. It is based on a linkage between the NCI's Surveillance, Epidemiology and End Results (SEER)

cancer registry data and the Centers for Medicare & Medicaid Services' (CMS) Health Outcomes Survey (HOS)

.
SEER
The SEER Program works to provide information on cancer statistics in an effort to reduce the burden of cancer among the U.S. population. SEER collects data on cancer cases beginning in 1973 with a limited number of registries and continues to expand to include even more areas and demographics today.
MHOS
The Medicare Health Outcomes Survey (MHOS) is a longitudinal survey with the goal of gathering valid and reliable clinically meaningful data with many uses, such as monitoring health plan performance; helping beneficiaries make informed health care choices; and advancing the science of functional health outcomes measurement. The MHOS has been administered annually since 1998 to a random sample of beneficiaries drawn from participating Medicare Advantage Organizations (MAOs). A baseline survey is administered to a new cohort of Medicare beneficiaries each year, and each cohort is resurveyed in two years.
This data resource is designed to improve understanding of cancer patient and survivor health-related quality of life (HRQOL) of cancer patients and survivors enrolled in MAOs.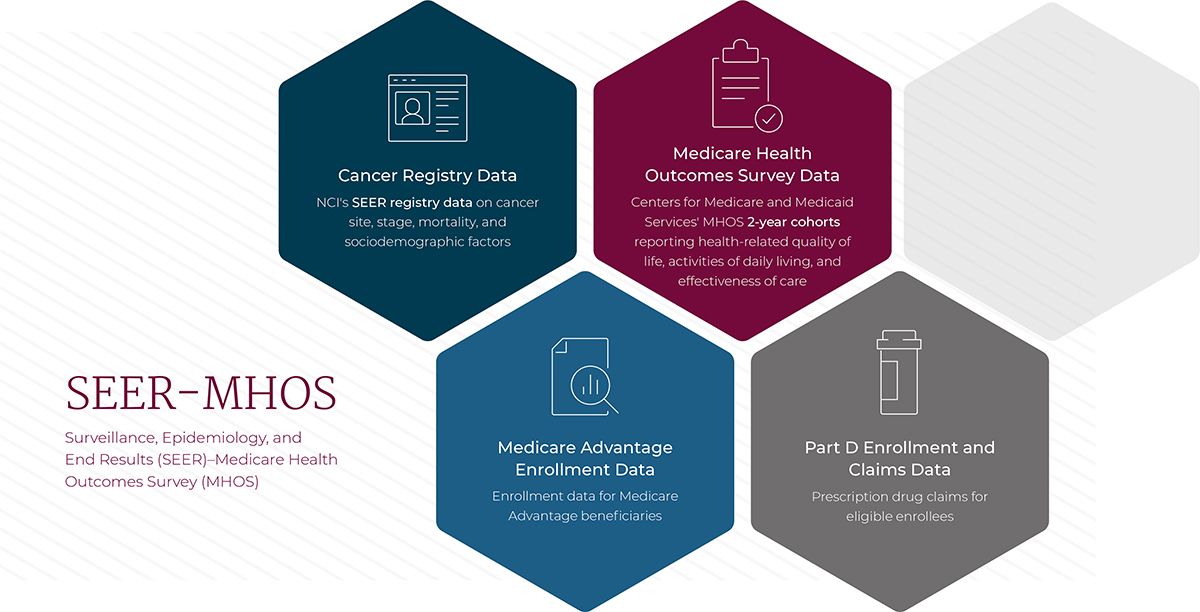 [Click for more details]
SEER—MHOS: Surveillance, Epidemiology, and End Results (SEER)—Medicare Health Outcomes Survey (MHOS)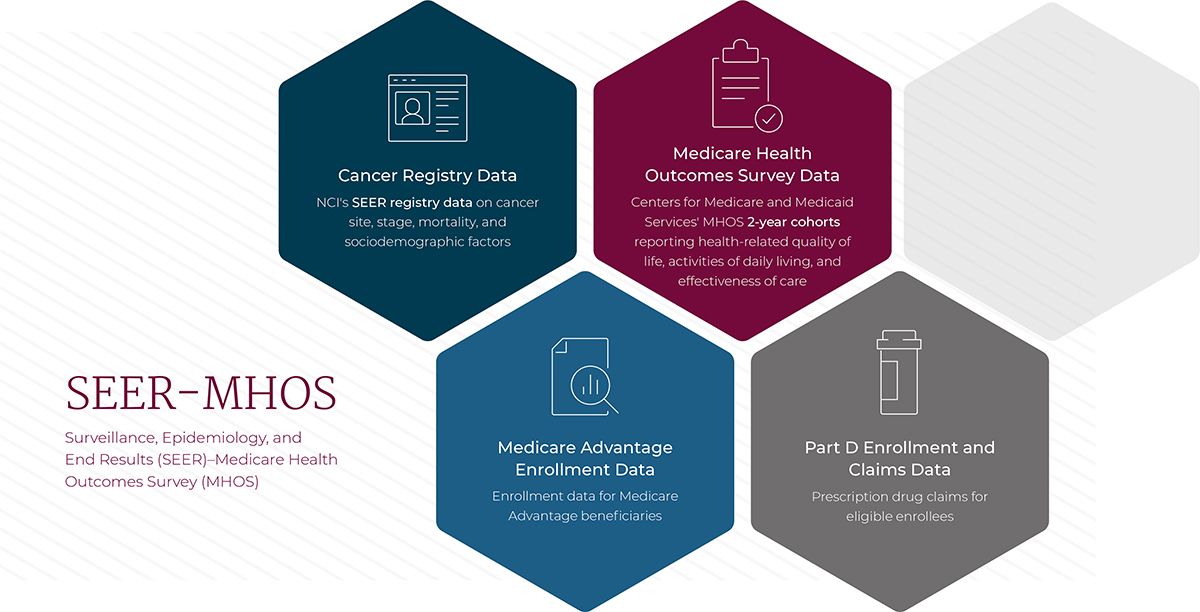 Cancer Registry Data: NCI's SEER registry data on cancer site, stage, mortality, and sociodemographic factors.
Medicare Health Outcomes Survey Data: Centers for Medicare & Medicaid Services' MHOS 2-year cohorts reporting health-related quality of life, activities of daily living, and effectiveness of care.
Medicare Advantage Enrollment Data: Enrollment data for Medicare Advantage beneficiaries.
Part D Enrollment and Claims Data: Prescription drug claims for eligible enrollees.